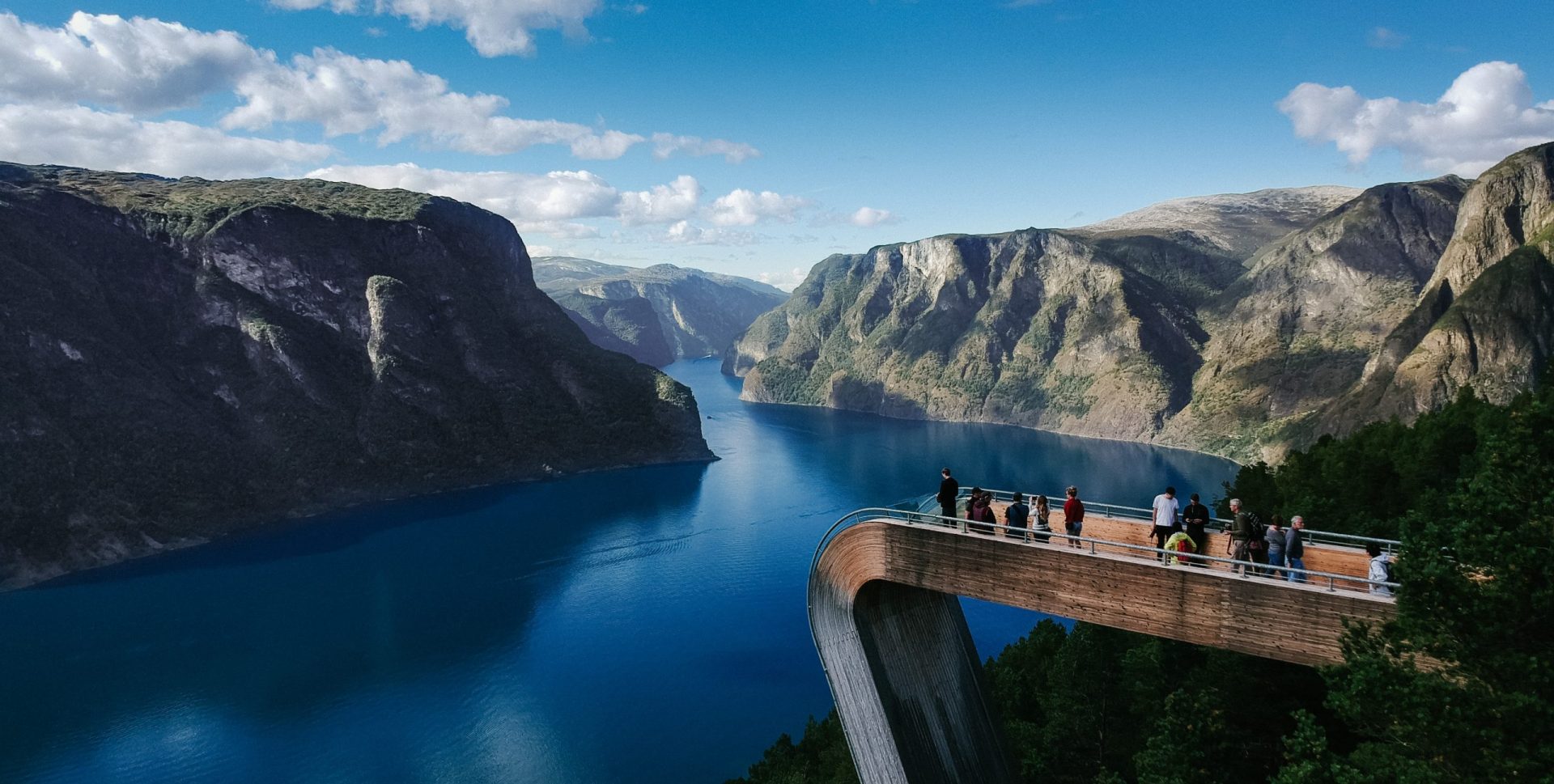 3 days – 09.09.23
The Best of Norway in a nutshelltour, Sept 2023
During 3 fantastic days we´ll travel from Oslo to the Fjord area and discover the highlights of Flåm. It´s the perfect tour for you who wants to experience in short time the Best of Norway in a nutshell with panoramic views, mountains, fjords, thrilling activities and waterfalls. It´s possible to add a previsit day in Oslo.
Turen "Noe av det beste Norge kan by på" er den perfekte turen for deg som vil få med deg det aller beste. I løpet av 3 fullpakkede dager kommer perlene på en snor med overfart over Hemsedalsfjellet, Borgund stavkirke, vandretur langs Vindhellavegen, Historisk vei ned mot Gamle Lærdalsøyri, Lærdalstunnelen,Nasjonal turistvei over Aurlandsfjellet,  Stegastein utsiktspunkt, Fjordcruise på trange Nærøyfjorden (UNESCO), Flåmsbanen opp til Myrdal og Rallarvegen på sykkel tilbake til Flåm, med mulighet til Flåm Zipline, spise 5-retters med lokal passende drikke på Flåmsbrygga, vandre den fabelaktige Aurlandsdalen ca 19 km fra Østerbø fjellstove (820 moh) ned til  Vassbygdi.
Day 1. The mountains of Hemsedal, Borgund stave church, Vindhellavegen, Historic route, Lærdalstunnel and Fjordcruise Nærøyfjorden (UNESCO).
09.00 Pick up at the Opera, Oslo Downtown and starting the bustour westbound, passing Hemsedal and first stop at Borgund stave church with a possibility for a short walk to the nearby old road Vindhellavegen.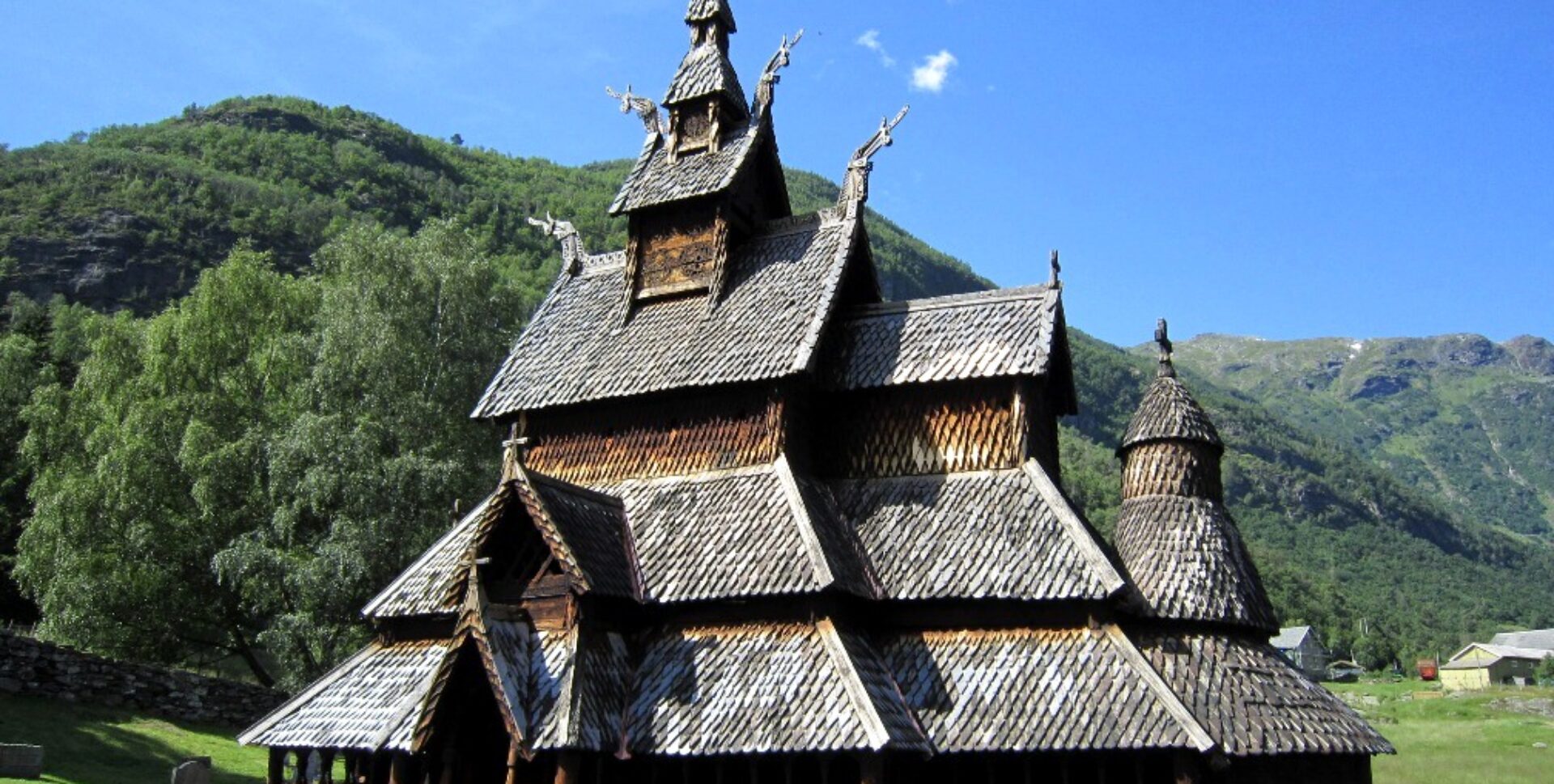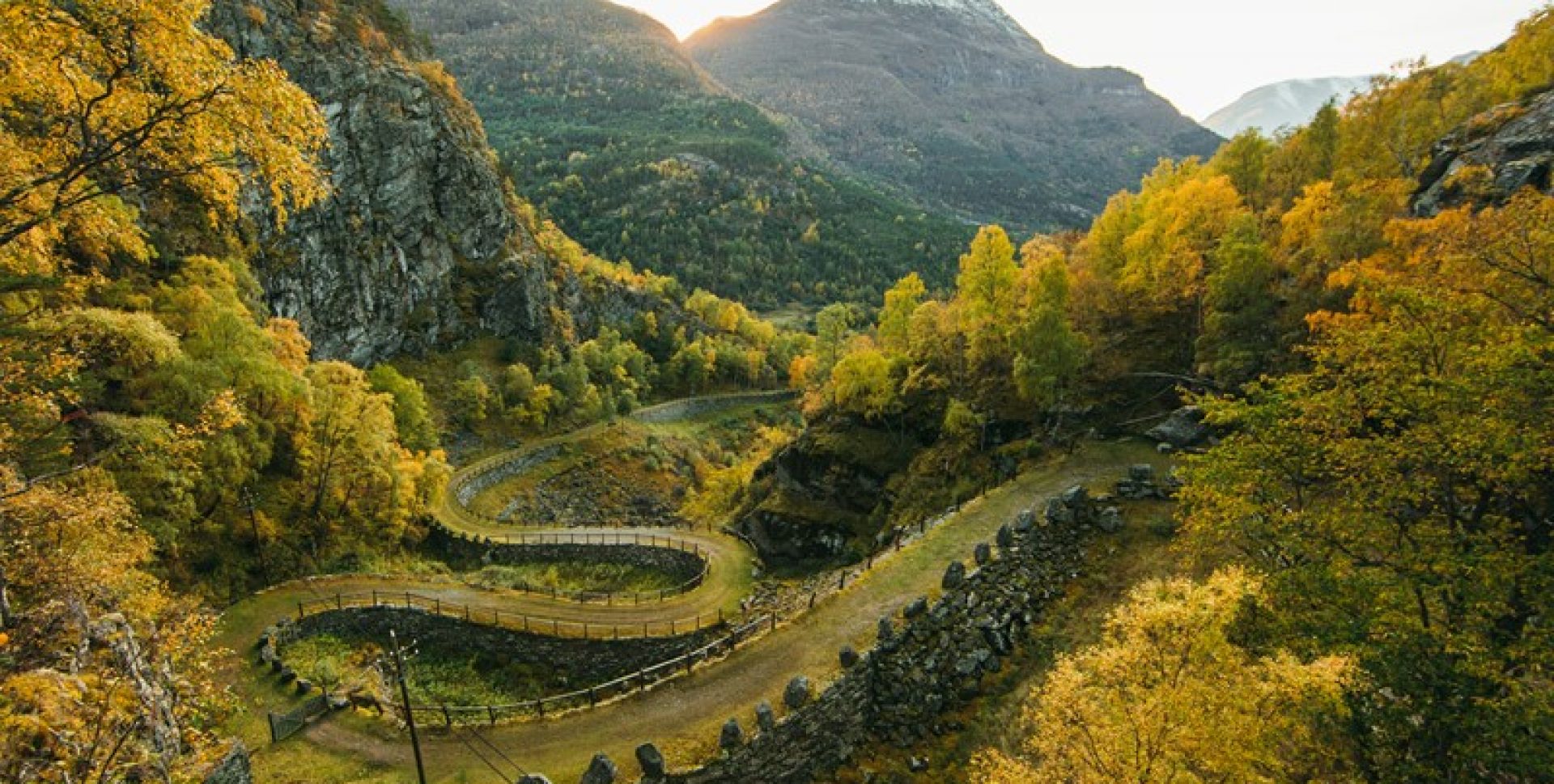 -Continue via the Historic route and through the longest tunnel in the world for vehicles, Lærdalstunnelen.
17.30 Fjordcruise Nærøyfjorden (UNESCO), Gudvangen – Flåm.
Enjoy a fjord cruise on the Nærøyfjord, listed on UNESCO World Heritage Site. The Nærøyfjord is the narrowest fjord in the world, at one point only 250 metres wide, beneath mountains that tower up to 1700 metres above its sheltered waters. The scenery is very impressive, and if you lift your eyes, you can see mountain farms clinging to the steep mountainsides.
19.45 Check in at Flåm hostel and we are having dinner.
Day 2: Hike Aurlandsdalen valley, The Norwegian Grand Canyon!
07.45 Breakfast.
08.30: Bus leaves for Vassbygdi, we change bus and further transport to Østerbø fjellstove, startingpoint for the hike Aurlandsdalen.
The Aurlandsdalen Valley hike travels from Østerbø to Vassbygdi and is a Norwegian Classic. The untouched and wild nature of western Norway combined with culture and history offers a unique insight to what has been and how people have lived here for several hundred years.
On this hike you pass old and "forgotten" farms Nesbø, Sinjarheim og Almen, also passing well known beautiful sites such as Nesbøgalden, Berekvamsbrennevinet, Bjørnestigen, Likbjørka og Vetlahelvete. All these sites and farms have their own history and are part over our cultural history. Hiking this trail you will understand why the Aurtlandsdalen valley goes under the nickname "The Norwegian Grand Canyon".
Distance : 19 km
Time : 6 to 7 hours depending on your pace.
Info : There are some moderately steep sections on the trail.
Back in Flåm, we enjoy the signature dish Ægir Viking Plank!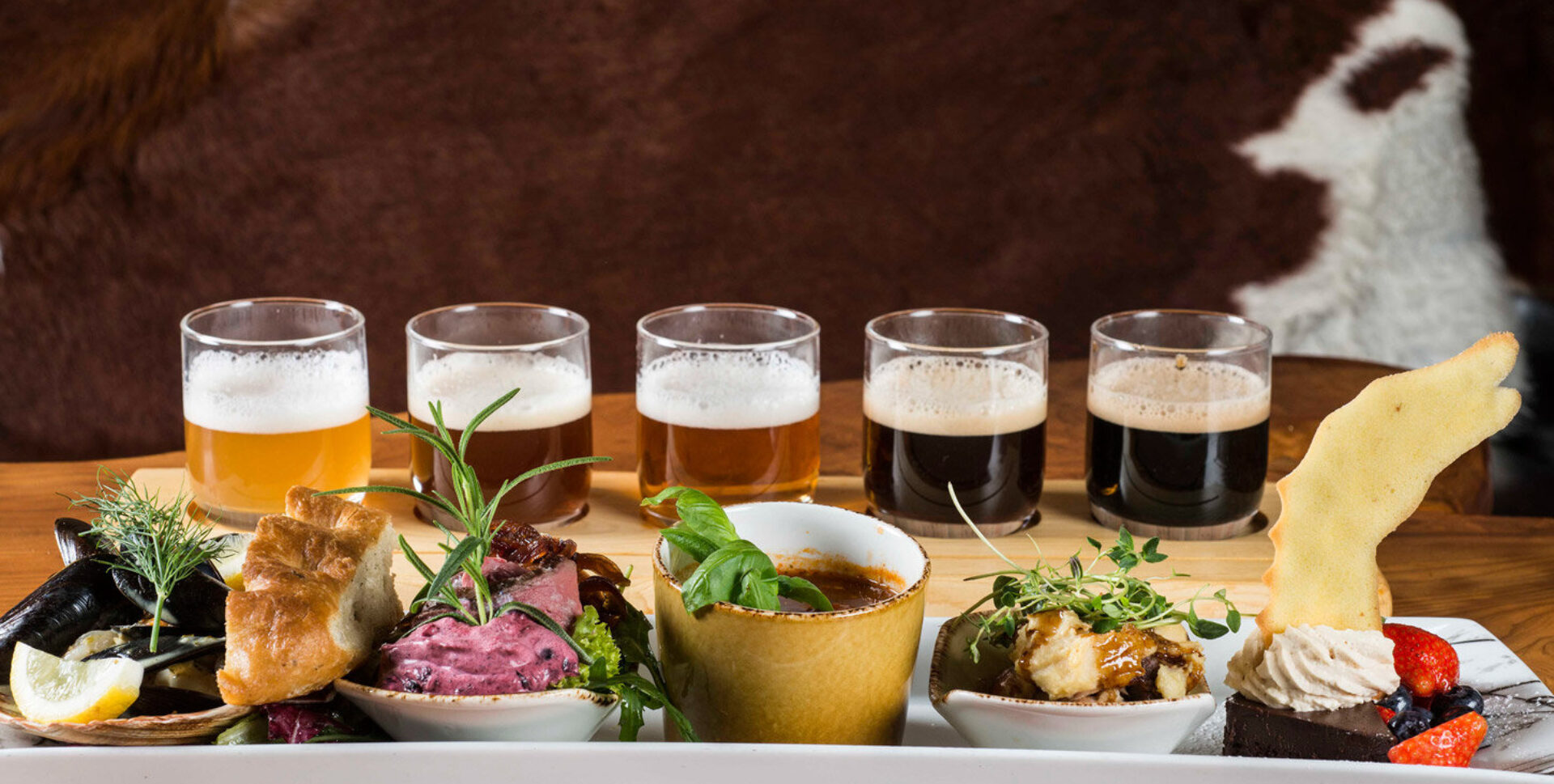 THE SIGNATURE DISH ÆGIR VIKING PLANK
Our unique 5-course beer and food plank pairs food and different types of beer from Ægir Brewery to compliment
the food.
❖ Salmon tartare served with pickled fennel, aioli and trout roe.
❖ Slow cooked deer served with beer syrup, red onion compote and blueberry cream
❖ Rich tomato-based soup with fish, mussels, and vegetables
❖ Pork shank served with mushroom sauce and mashed potatoes
❖ Dark chocolate cake with porter ganache
Day 3: The Flåm Railway, Flåm Zipline, Bike the Rallarroad back to Flåm, Viewpoint Stegastein, Scenery route Aurlandsfjellet, walk in Old Town of Lærdal.
07.30 Breakfast and check out.
08.25 The Flåm Railway   Experience the world´s most spectacular railway journey, and one of the leading tourist attractions in Norway.  The Flåm Railway runs between the mountain station Myrdal by the Bergen Railway, down to Flåm station nestled in the innermost corner of the Aurlandfjord. On the 20 kilometers long train trip, with a height difference of 865 meter, you experience some of the wildest and most magnificent Norwegian fjord and mountain landscape. Discover rivers cutting through deep ravines, waterfalls cascading down steep mountainsides, snow-capped mountain tops and mountain farms clinging to the steep sides.
The Flåm Railway is one of the steepest railway lines in the world on normal tracks, where almost 80% of the journey has a gradient of 5.5%, the equivalent of 1:18. A twisting tunnel, which winds its way throught the mountain at several levels, is proof of the most audacious and skilled engineering exploits in Norwegian railroad history.
At the top you have 3 choices how you want to return to Flåm!
Returntrip with the Flåm Railway.
Biking the Rallarroad. Myrdal at 867 amsl, 17 km to Flåm, 2 hours
Flåm Zipline and biking the Rallarroad from Kårdal. 14 km to Flåm, 1.5 hours.
The Rallarroad makes its way through 21 sharp bends down to Kårdal which is the highest farm in Flåmsdalen. From Kårdal the road carries on through the wild Flåm Valley past Berekvam and Dalsbotten. From Dalsbotten and down to Hårreina you will pass by the powerful waterfall, Rjoandefossen. Make sure to stop by Flåm Church which was raised in 1667. The poet, Per Sivle, was born and grew up on the farm across the river from the church. You can see the stone that has been raised in his memory. On the last part towards Flåm you are cycling on the car route going up the valley, so take care and keep your speed down.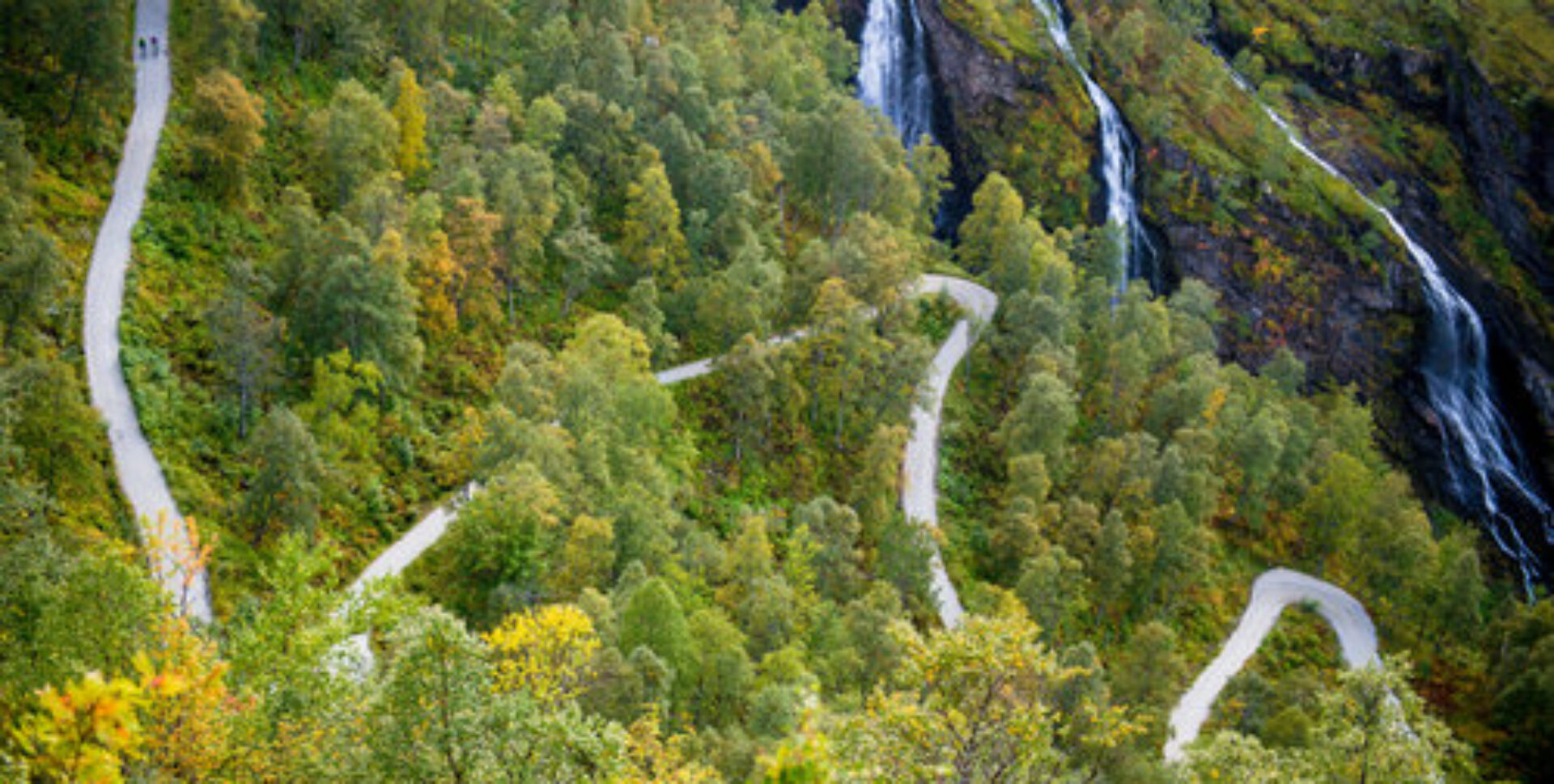 Experience Flåm`s new big attraction – Flåm Zipline, the longest zipline in Scandinavia with a span of 1,381 metres. This breathtaking zipline starts at Vatnahalsen near the Bergen Line and the Flåm Railway and ends up in Kårdalen close to the Rallarrosa Cheese Farm, in the upper part of the Flåm valley. Your adrenalin will still be pumping when you arrive at Rallarrosa Cheese Farm at the end of the zipline. Spend some time at the farm sharing your experience and unwind with some great cheeses, snacks, light meals and drinks, while taking in the stunning scenery.
PRACTICAL INFORMATION
2 ziplines for people

1 zipline for goods / backpacks / luggage (use it without any extra cost)

Maximum weight 140 kg.

Minimum weight 25 kg.

It is not permitted to be under the influence of drugs or alcohol.

Health: If you are pregnant or have back, neck, heart or lung problems, or you suffer from epilepsy or any other condition that could result in seizures, you should consider whether it advisable to to use the zipline.

In the event of bad weather, the zipline may be closed for safety reasons.
12.00 Back in Flåm.
12.30 Lunch at Stegastein viewpoint
We experinence the extraordinary and spectacular panoramic views from Stegastein viewing platform! This structure, which juts out 30 metres from the mountainside, 650 metres above the fjord, offers an unparalleled panorama. A more amazing view of the fjord, mountains and surrounding landscape is hard to imagine.
13.00 Continue the fantastic  Scenic Route Aurlandsfjellet
13.45 Walk in Old Town Lærdal
14.00 We continue our trip back to Oslo and will make a fast food stop at Gol.
19.30 Estimate Sandvika stasjon. Kiss&Goodby!!!!
Pakketips:
Generelt gjelder klær etter vær. Flertallet av aktivitetene skjer utendørs der spesielt deler av både Rallarvegen og vandringen ned Aurlandsdalen går et stykke på høyfjellet.
Utstyrsliste: Ikke komplett men det viktigste.
Vannflaske og termos

​.
Tursekk, sittunderlag, gnagsårplaster, ullundertøy, ullsokker.

Sykkelhjelm

​, hansker​, briller.

Gode sko både for gå- og sykkeltur, enten vanntette joggesko eller fjellsko

.

Vind- og vanntette klær,

været i høyfjellet skifter fort.

Guide tar med: 

Lappesaker, pumpe, verktøy og førstehjelpsutstyr.

Håndkle.
Hva er inkludert i reisen?
-All transport i minibuss og guiding på turen.
-Pausestopp Borgund stavkirke med enkel lunsj og drikke.
-Vandring til Vindhellavegen, busstur Historisk vei, vandring Gamle Lærdalsøyri.
-Lærdalstunnelen med stopp ved utsiktspunkten Stegastein.
-2 overnattinger i dobbelt rom/4-sengsrom på Flåm Vandrerhjem, køyeseng, toalett og dusj på rommet. Sengetøy inkludert, ta med håndkle. God standard.
– Middag med kylling i sursøtsaus, ris og drikke i spisesalen på Flåm Vandrerhjem.
-2 frokoster,2 nistepakker og 2 påfyll termos av kaffe/te/sjokolade.
-Vandring Aurlandsdalen fra Østerbø fjellstove – Vassbygdi.
Hva tilkommer på reisen?
-Entré Borgund stavkirke. Kr 100
-Fjordcruise Nærøyfjorden, Gudvangen – Flåm. Kr 615
-Vikingplanke (5-retter med 5 tilhørende drikke) på Flåmsbrygga. Kr 700
-Billett med lokalbuss Vassbygdi- Østerbø fjellstove. Kr 130
-Morning in Flåm going up to mountain station Myrdal and back:
Choose between:
Returnticket with The Flåm Railway 710 NOK or
The Flåm Railway + Biking the Rallarroad 920 NOK from Myrdal or
The Flåm Railway + Flåm Zipline + Biking the Rallarroad 1630 NOK from Kårdalen,
-Middagsstopp ved Burger King i Gol.